Buy MICROSOFT  VISIO  PROFESSIONAL2019 DIGITAL LICENSE
Microsoft Visio 2019 Professional is the latest version of Visio software that lets you create, collaborate and share data linked to diagrams to simplify complex information. Increasing your work pace with ready-to-use templates and shapes, Microsoft Visio 2019 Professional enables you to overlay data on top of your project, while diagrams and data visualizations update automatically when underlying data is refreshed.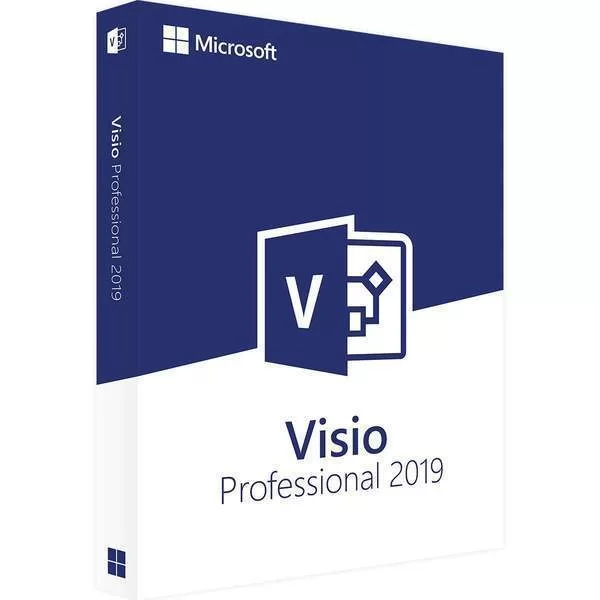 New collaboration capabilities allow multiple individuals to work on a single diagram at the same time, making it easy for teams to collaborate. The program also comes with wide range of new and updated shapes and an enhanced ability to change The appearance of diagrams.
Microsoft Visio 2019 is the successor to Microsoft Visio 2016. Microsoft Visio 2019 Professional is available in 32-bits and 64-bits and it is compatible with the latest Windows operating system – Windows 10.
Features of MICROSOFT  VISIO  PROFESSIONAL2019
► Create professional diagrams.
Intuitive and familiar Office experience makes it easy to create beautiful and professional flowcharts, diagrams, organizational charts, floor plans, engineering projects and more using fresh shapes and templates.
► Built-in database model diagrams.
Without additional add-ins, the new Database Model Diagram template precisely models your database as a Visio diagram.
► Work better together.
Incorporate ideas and insights from all stakeholders when working together on Visio flowcharts.
► Gain insights into the real world.
Easily connect the real-time data to your flowcharts and diagrams. Through Visio, your flowcharts automatically reflect changes and updates in the underlying data.
► Create wireframe diagrams for websites.
Using Visio wireframe you can bring your ideas to life and quickly create a detailed visual model of an interface draft to functionality and content.
► UML component, communication, and deployment diagrams.
With Visio 2019 you can create UML component diagrams that showcase interfaces, ports, components, and connections between them. It also lets your produce communication of UML diagrams, which display the interactions between lifelines. Moreover, the deployment of UML diagrams can show the architecture of a deployment of software to artifacts 50nodes.
► Enhanced AutoCAD support, scaling, and speed.
With Visio Professional 2019 you can import or open files that are from AutoCAD versions 2017 or prior to. Additionally, the scaling and speed of our improvements have been made for importing AutoCAD files.